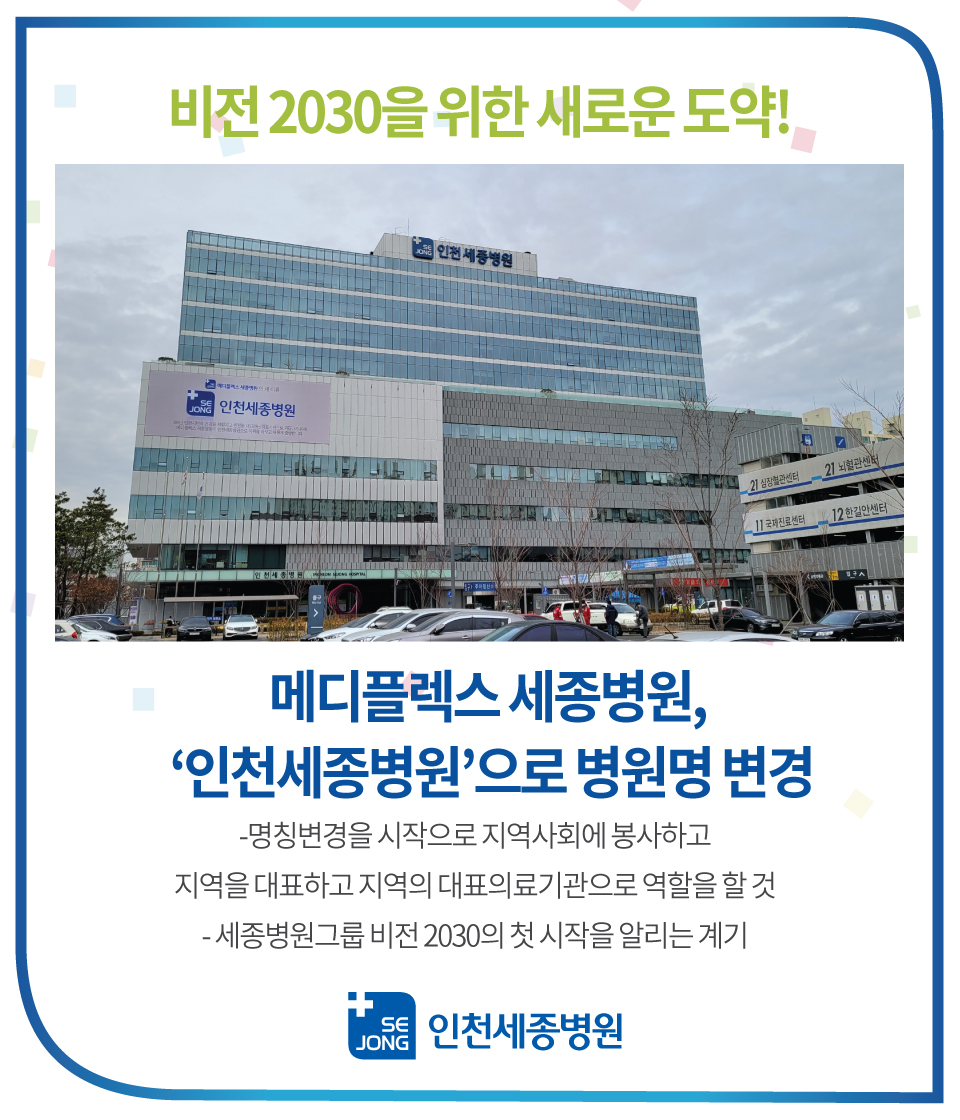 Mediplex Sejong Hospital (Chairman Park Jin-sik), Korea's first and only medical complex, held a ceremony on March 2 (Tue) to celebrate changes of its hospitals' names: Mediplex Sejong Hospital to Incheon Sejong Hospital and Sejong Hospital (located in Bucheon) to Bucheon Sejong Hospital, marking a great leap forward of the medical complex.
Opened in March 2017, Mediplex Sejong Hospital (located in Gyeyang-gu, Incheon), a component of the Sejong Hospital Group, has changed its name to Incheon Sejong Hospital after over four years of streamlining all administrative processes and organization in line with its new vision and strategies. Also, Sejong Hospital located in Bucheon City has been renamed Bucheon Sejong Hospital, without any change to the medical staff and health care processes.
The move aims to go beyond the image of the "heart" of the "Sejong Hospital" brand to achieve the Sejong Hospital Group's Vision 2030 and
to mark the start of a more trusted brand that takes responsibility for the healthier and happier life of the people.
The new names are more familiar and easier for customers to understand
by adding to the unified brand of Sejong Hospital the name of the city the hospitals are located.
This means that
we are dedicated to serving the community as a major medical institution
in "Incheon" and "Bucheon."
"The name of Mediplex Sejong Hospital was to emphasize the value of collaboration that never existed by then," said Jin-Sik Park, chairman of Sejong Hospital Group, at the ceremony. "we have made this name change to Incheon Sejong Hospital to show our commitment to become a leading medical institution that serves the community with one of Korea's best medical systems that have been developed via successful collaboration until now." He added, "The principal Sejong Hospital has also been renamed Bucheon Sejong Hospital to ensure the consistency and scalability of the brand of "Sejong Hospital" as Korea's representative general hospital specializing in cardiovascular disease."
In addition, Incheon Sejong Hospital, which opened in March 2017, is Korea's first medical complex (a combination of "medicine" and "complex") with a total floor area of 38,738m² and 326 beds on two floors below ground and 10 floors above ground. It is a general hospital with 19 specialty centers and 22 departments, as well as five specialized centers, including the Cardiovascular Center, the Cerebrovascular Center, the Pediatrics Center, Seoul Women's Center, and HanGil Eye Center. Currently, the hospital has more than 80 medical staff and over 800 employees, and 300,000 outpatients visit the hospital annually. In addition, we continue to grow rapidly year after year, earning good ratings in adequacy evaluation and patient experience evaluation. Also, since its opening in 1982 as the only hospital specializing in cardiology in Korea, Bucheon Sejong Hospital has carried out over 1,000 heart surgeries each year.