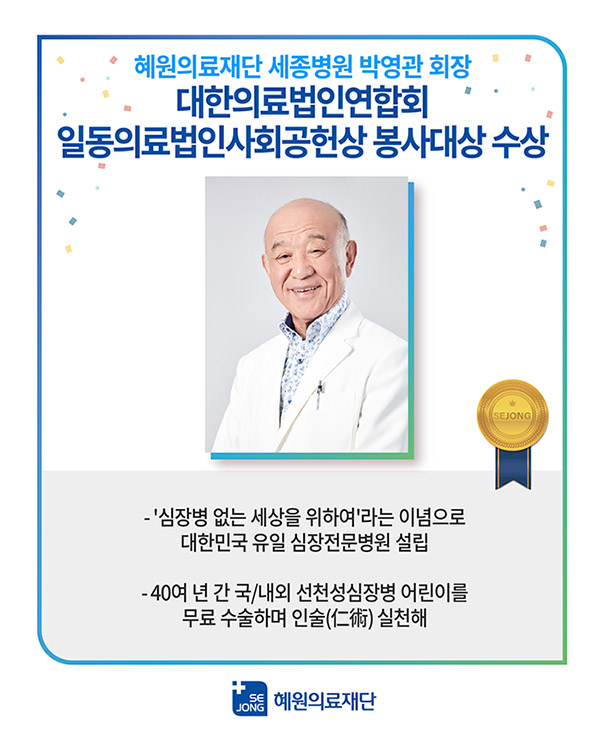 Chairman Park Young Kwan of the Hyewon Medical Foundation Sejong Hospital awarded Volunteer Grand Prize at Ildong Medical Corporation Social Contribution Award by the Korea Medical Corporation Association
- Established Korea's only cardiology hospital with the spirit of 'For a world without heart disease'
- Practiced benevolent art of medicine for over 40 years, performing free surgery on children with congenital heart disease at home and abroad
​
​
Chairman Park Young Kwan of the Hyewon Medical Foundation Sejong Hospital (BOD Chairman Jin-sik Park) was awarded the Volunteer Grand Prize at the Ildong Medical Corporation Social Contribution Award by the Korean Medical Association on Friday, December 10
th
. Chairman Jin-sik Park took the award on behalf of Chairman Park could not attend the awards ceremony due to personal circumstances.
The 3
rd
Ildong Medical Corporation Social Contribution Award Ceremony was held at the 17th General Meeting of the Korean Medical Association at Best Western Seoul Garden Hotel on Friday, December 10
th
. It is an honorable award given to executives of medical foundations who contributed to relieving medical inequality and improving the business environment of medical foundations.
After seeing a girl with a ventricular septal defect (curable with one operation) pass away due to cost problems when he was a professor, he rolled up his sleeves to perform free surgeries since 1989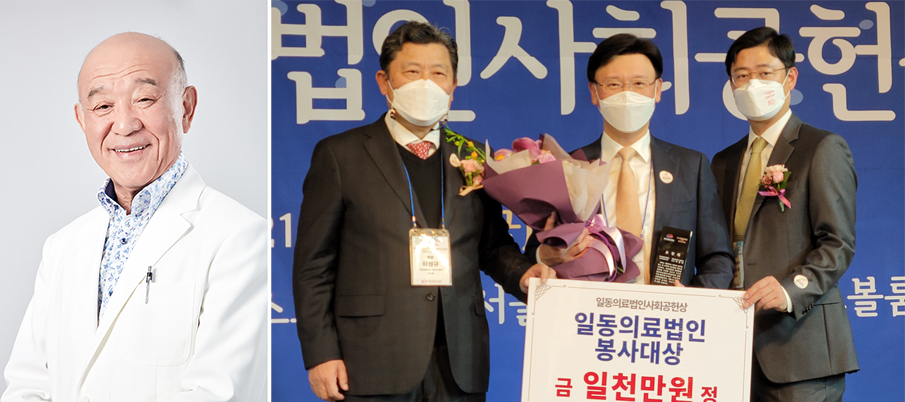 ▲(Left) Chairman Park Young Kwan, Hyewon Medical Foundation Sejong Hospital
▲(Right) Chairman Park Jin-sik (of the BOD) Hyewon Medical Foundation Sejong Hospital (center) taking a commemorative photo after receiving the award on behalf of Chairman Park.
Afterward, surgery began on children who were not receiving adequate treatment for financial reasons with the help of various social groups. These dedicated activities enabled the development of medical technology and the reinforcement of health insurance coverage, significantly pulling down the number of children with congenital heart disease in Korea. Children in underdeveloped countries in need of help received surgery. In December 1989, a pediatric patient with congenital heart disease in Yanbian, China, was invited and received surgery. Children with congenital heart disease have found new lives, reaching approximately 13,000 in Korea and 1,600 abroad.
BOD Chairman Park Jinsik relayed a message from Chairman Park Young Kwan of the Hyewon Medical Foundation Sejong Hospital saying, "I always keep in my heart the saying, 'Hospitals are a public good of society, and medical care for only the patients visiting the hospital does not fulfill its mission.'" I would like to express my sincere gratitude to the staff of Sejong Hospital who have been with me for over 40 years, as well as numerous sponsoring organizations, social welfare organizations, and foreign companies and philanthropists."
He added, "Medical sharing activities at home and abroad will continue as long as Sejong Hospital exists, and we will continue to take the lead in delivering hope to children in need." Meanwhile, Chairman Park Young Kwan received the second grade of the National Order of Merit, the 6th Hamchun Grand Prize, the Seoul National University AMP Grand Prize, etc. In 2014, he was selected as one of the '100 Bucheon People' at the 100th anniversary of the founding of Bucheon City. He was appointed as an honorary citizen of Khabarovsk City, Russia, in 2009.