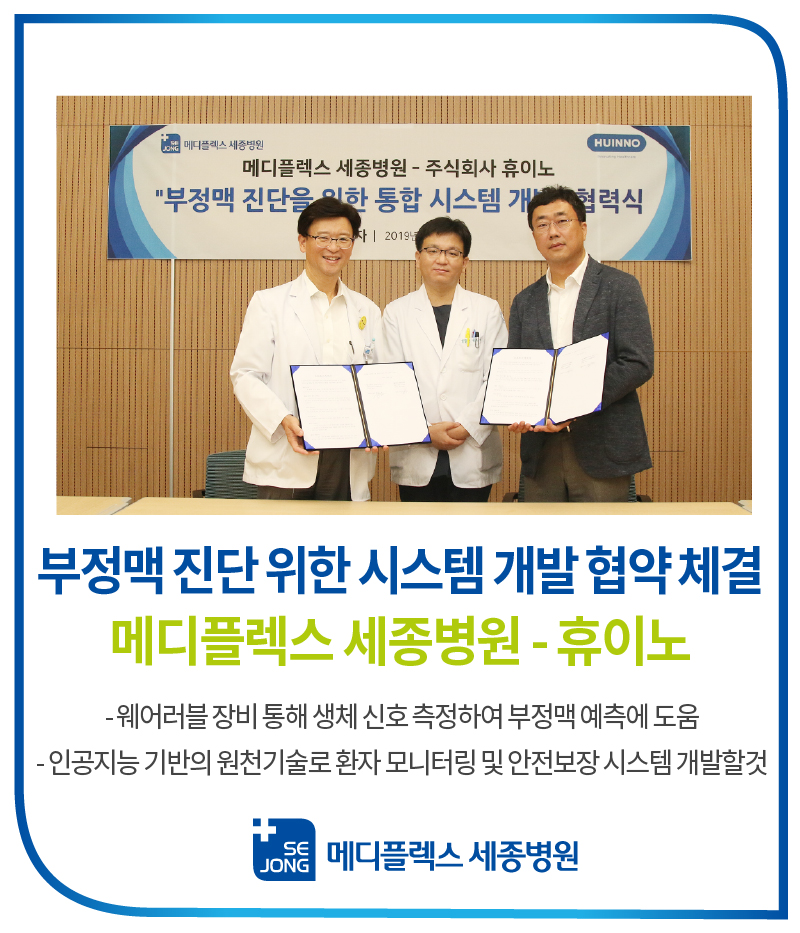 - Helping prediction of arrhythmia by measuring bio signals through wearable devices
- Developing the patient monitoring and safety guarantee system based on AI-based proprietary technology
Mediplex Sejong Hospital and Huinno Co., Ltd, a digital healthcare company based on AI, signed an MOU on the 'development of a system to diagnose arrhythmia' on Aug. 6 (Tue.).

Both parties will measure bio signals such as ECG, oxygen saturation, pulse rate and respiratory rate in real time by making patients in Mediplex Sejong Hospital wear MEMO Patch or MEMO Watch, which are wearable devices of Huinno based on the MOU on system development. It is expected that it becomes possible to monitor cardiac condition of a patient based on bio signals and helps the prediction and diagnosis of arrhythmia using Huinno's AI analysis algorithm (MEMO AI).

Under the plan, Mediplex Sejong Hospital will provide clinical data and advice and Huinno plans to configure the monitoring system utilizing wearable device and AI analysis service they own. It is possible to monitor and send ECG data in real time for 2 weeks after the attachment of wearable patch. It is expected that the level of algorithm that diagnoses arrhythmia can be upgraded based on this data.

The final goal of Mediplex Sejong Hospital is to make the two parties monitor patients and develop a system that ensures patient safety based on proprietary technology.