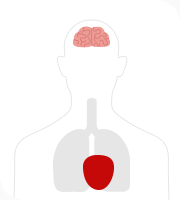 Do you know that the odds of developing

dementia

, heart or cerebrovascular disease are overwhelming?
Alzheimer's dementia and vascular dementia are the most common dementias of the various types of dementia.
The most common risk factor for dementia is heart and cerebrovascular disease.
Coronary artery disease (angina, myocardial infarction), arrhythmia, stroke history, and the development of cardiovasculardisease and dementia, such as middle-aged diabetes and hypertension and obesity, are closely related.Therefore, treatment of dementia must consider the risk factors of heart and cerebrovascular disease.
Incheon Sejong Hospital Dementia Center is one of the best in Korea and has the expertise of our heart and cerebrovascularcenter. We are able to provide the finest professional medical services for dementia treatment in cooperation with our heartand cerebrovascular center.