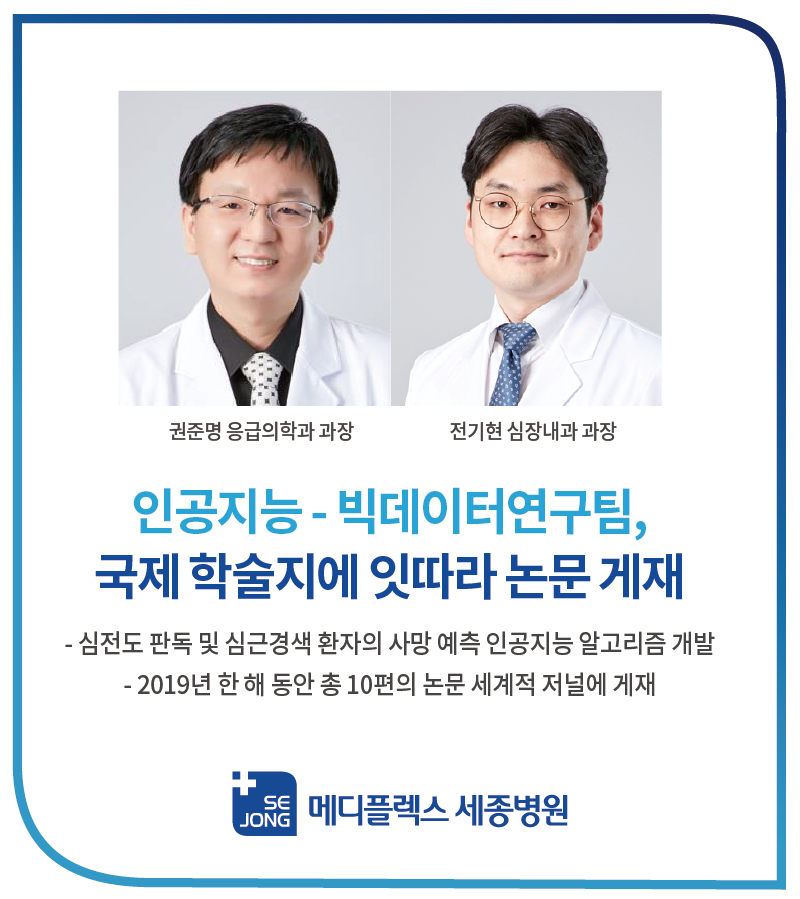 - The research team consisting of Dept Director Jeon Gi-hyeon and Center Director Kwon Jun-myeong recently published two articles.
- Developed AI algorithms for EKG readout and to predict death of patients with myocardial infarction
- Published a total of 10 articles in prestigious journals in 2019
Mediplex Sejong Hospital's Artificial Intelligence (AI)-Big Data Research Team consisting of Clinical Research Department Director Jeon Gi-hyeon (Director of the Department of Cardiology) and AI-Big Data Center Director Kwon Jun-myeong (Director of the Department of Emergency Medicine) has recently drawing attention by publishing two SCI-level papers in a row.
The AI-Big Data Research Team conducted research to develop an AI that reads electrocardiograms and published its research paper entitled 'Comparing the performance of artificial intelligence and conventional diagnosis criteria for detecting left ventricular hypertrophy using electrocardiography' in the European Arrhythmia Journal EUROPACE (IF: 5.047) on 5 (Thurs), making them in the spotlight.
This article explains the development of artificial intelligence algorithms by having them learn about over 40,000 electrocardiograms for diagnosing myocardial hypertrophy, and the results show that the sensitivity of diagnosis was 1.5 times higher than that of a cardiologist.
In addition, a more recent paper is about the prediction of in-hospital mortality in patients with myocardial infarction, which was published on Thursday, October 31 in the internationally acclaimed medical journal PLOS ONE (IF: 2.776).
The paper is to predict the long-term mortality of myocardial infarction and is greatly significant because the results reveal a superior predictive power compared to TIMI, GRACE, ACTION score, classical methods for predicting the prognosis of patients with myocardial infarction, that is, predictive models that score various factors such as age, past history, and heart rate.
Mediplex Sejong Hospital will focus on related research to improve the prognosis of patients and lower mortality through artificial intelligence, and complement technical aspects for the verification of accuracy and effectiveness, and work together with various experts to become a leading player in the field of bio-signal based medical AI.