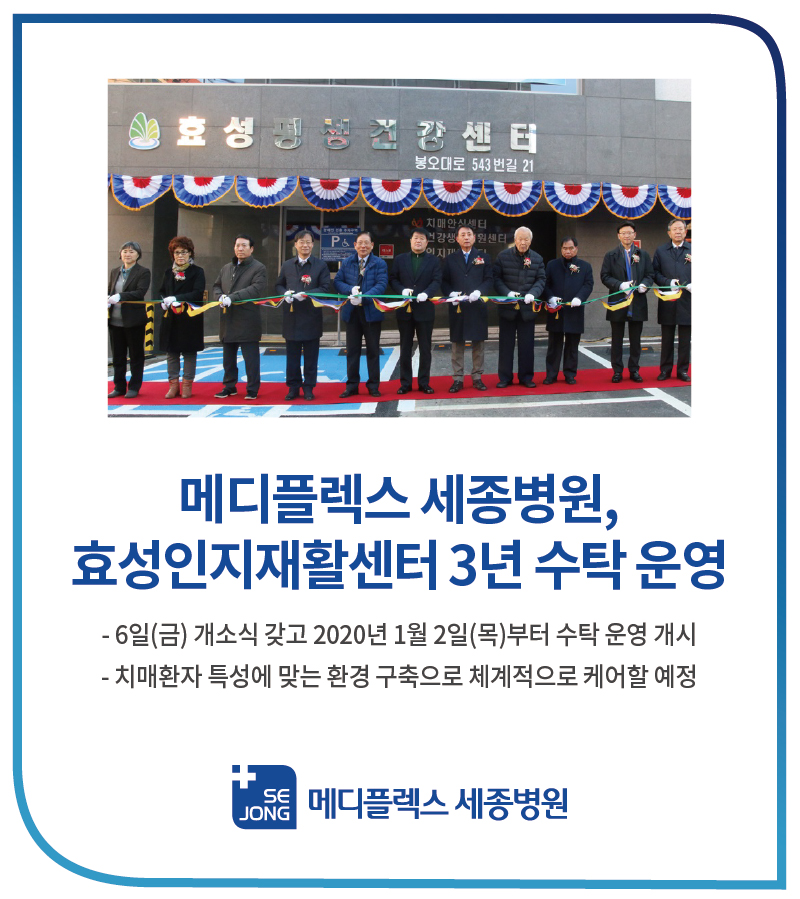 Mediplex Sejong Hospital will start operating Hyosung Cognitive Rehabilitation Center (21, Bongo-daero 543beon-gil, Gyeyang-gu) from January 2 (Thurs), 2020 as an entrusted operator.
Hyosung Lifelong Health Center consists of three centers, Hyosung Cognitive Rehabilitation Center, Hyosung Dementia Relief Center, and Hyosung Healthy Living Support Center, among which Hyosung Cognitive Rehabilitation Center aims to provide customized cognitive rehabilitation programs and day care for the elderly with mild dementia.
Selected as the entrusted operator of Hyosung Cognitive Rehabilitation Center for its highly evaluated management practices, Mediplex Sejong Hospital will provide care for dementia patients in the community in a more systematic and professional manner under the National Responsibility for Dementia Care and Dementia-Free Gyeyang Making programs and provide services that benefit as many residents in Gyeyang as possible.
Mediplex Sejong Hospital will create an environment that suits the characteristics of dementia patients and develop programs to provide customized services and strive to become a center which dementia patients and their families can rely on.