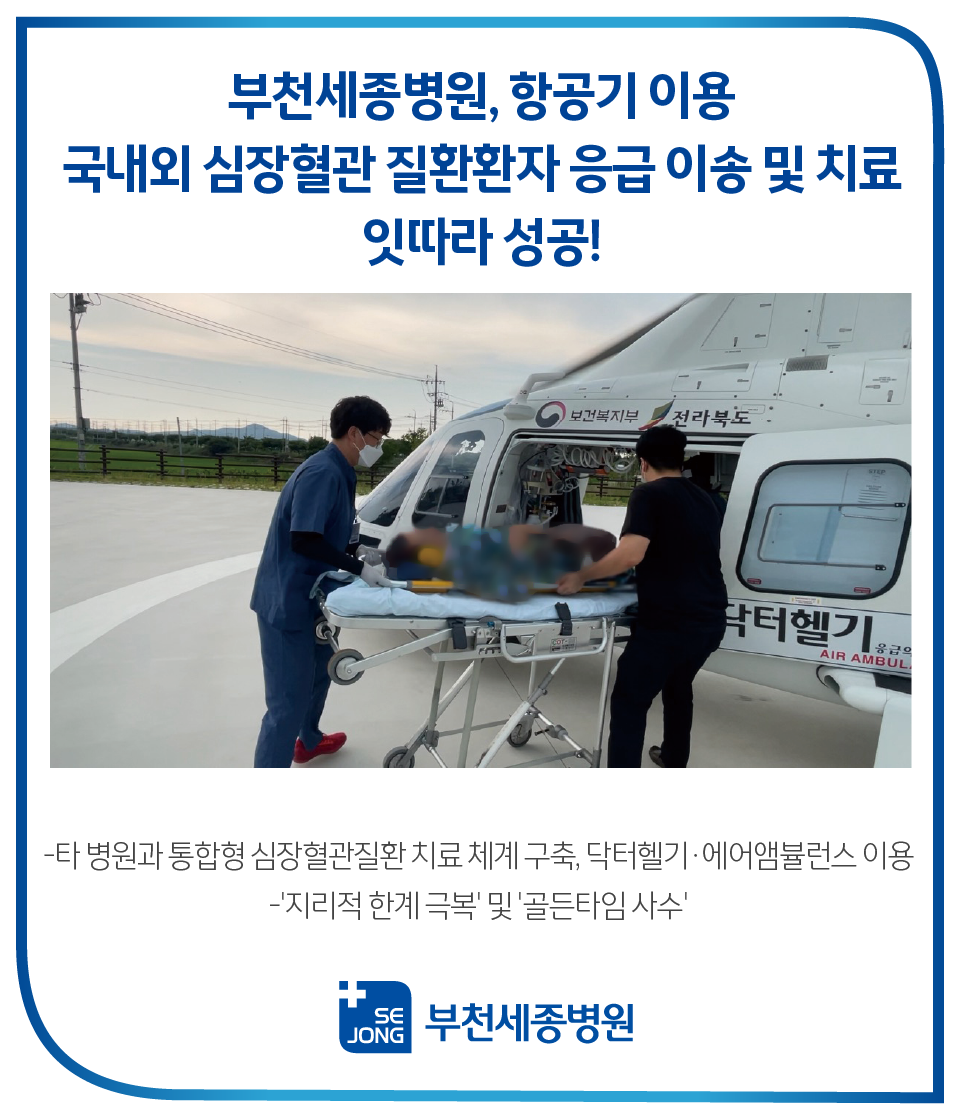 ▲ A doctor helicopter transporting an emergency patient from Wonkwang University Hospital in the Jeonbuk region
---
As it has successfully treated emergency and severe patients from home and abroad with cardiovascular diseases who were rushed to the hospital in a row, Bucheon Sejong Hospital (Director: Park Jin-sik) is making its mark as the only cardiac specialty hospital in Korea. The hospital has overcome geographical limitations and established an integrated cardiovascular disease treatment system with aircraft and other hospitals to ensure that patients from all over the country receive the best possible care.
To date, Bucheon Sejong Hospital has signed agreements with 15 general and tertiary general hospitals in Seoul metropolitan, Chungcheong, and Honam region, and Flying Doctors Korea, the only air ambulance and medical assistance service provider in Korea, is also involved.
Lee Myeong-mook, the president of Bucheon Sejong Hospital, said, "The number of partner hospitals is getting increased in many different regions across the country. We've accepted 100% of the referrals from partner hospitals so far, and there is systematic cooperation between hospitals to treat patients within the golden hour."
"The focus of the agreement is to eliminate the complex medical procedures, to directly connect specialists from the Cardiovascular Center at Bucheon Sejong Hospital through a hotline for diagnose and transfer, and to perform emergency operations."
In addition, it makes rapid decision-making as the doctors specializing in cardiac disease are directly responding through the hotline, and once the patient has recovered from surgery, he or she can be safely transferred back to the original hospital, increasing the convenience of patients while ensuring mutual benefits among partner hospitals.
Park Jin-sik, the director of Sejong Hospital, said, "With the mortality rate of cardiovascular disease being the second highest after cancer, we could not stand idly by as in some regions, even emergency patients could not get a cardiac surgery." He added, "Under the founding philosophy of Sejong Hospital, which is, 'For a world without heart disease,' we will lead the way to protect precious lives by enhancing and expanding cooperation between hospitals."