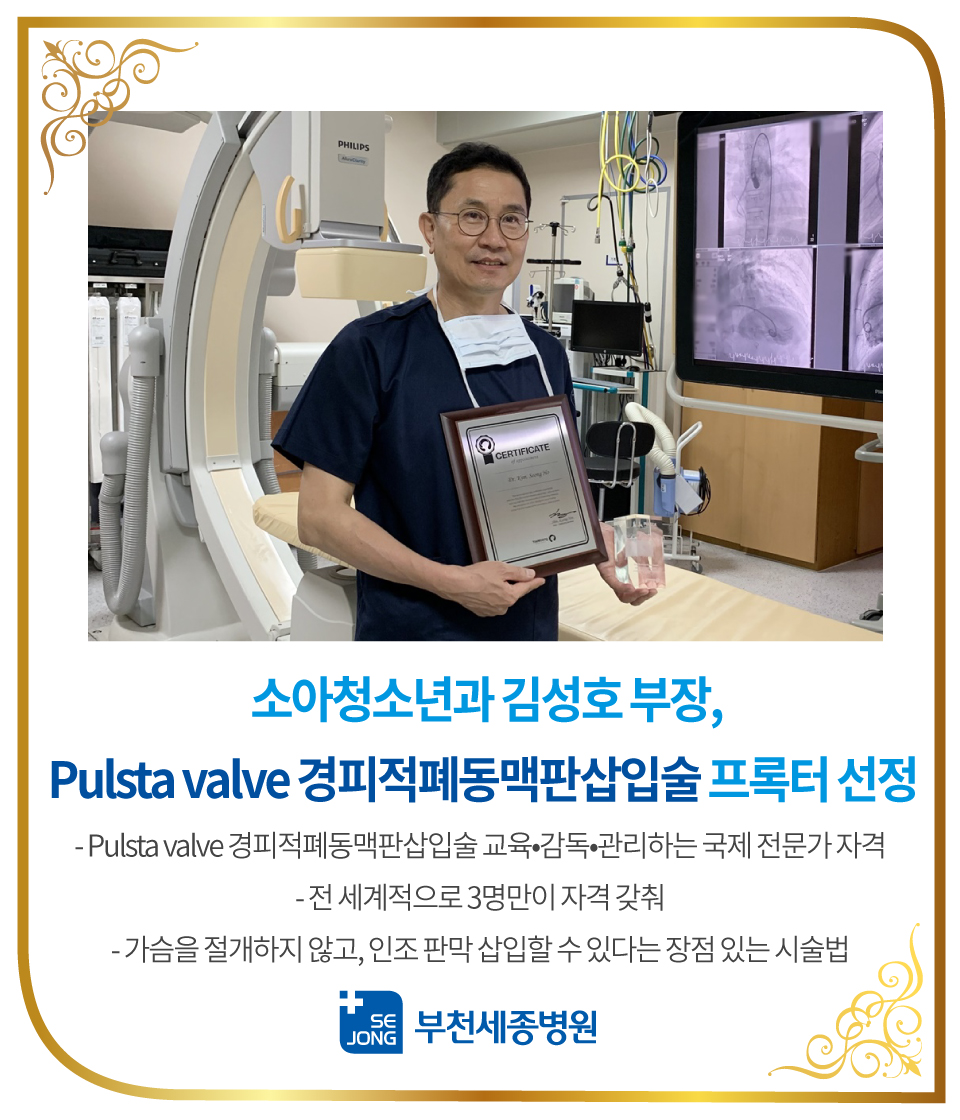 Kim Seong-ho, director of the Department of Pediatrics at Bucheon Sejong Hospital (Chairman Park Jin-sik), Korea's only cardiac hospital designated by the Ministry of Health and Welfare, was selected as a 'proctor' for pulsta valve percutaneous pulmonary valve implantation last month. It is noteworthy because there are only three people in the world who hold this qualification.
A 'proctor' refers to an international expert who can disseminate, educate, supervise, and manage procedures and surgical techniques around the world. Director Kim worked tirelessly until the Pulsta valve, developed by Kim Yong-jin, head of the Research Center at Bucheon Sejong Hospital, was applied to clinical practice, and after obtaining permission for use from Korea's Ministry of Food and Drug Safety, he has successfully completed the surgery for 30 patients.
As a proctor, Director Kim plans to participate in the procedures at other medical institutions and transfer the know-how.
For congenital heart disease patients whose pulmonary valve has lost its function, surgery is required to open the chest and insert an artificial valve. However, valves have a lifespan of 10 to 15 years, and this means that patients need multiple open-heart surgeries. Percutaneous pulmonary valve implantation is an alternative treatment for these surgeries, having advantages of fewer complications, lower risk of repeated open-heart surgeries, and shorter hospital stay allowing a quick return to daily life.
Bucheon Sejong Hospital Department of Pediatrics, Department of Pediatrics, Department of Pediatrics, Department of Pediatrics Kim Seong-ho, "The pulsta valve developed by Kim Yong-jin has already been performed in more than 200 cases worldwide including Europe, Taiwan, and Argentina beyond Korea. As it has the most advantages among the five surgical pulmonary valves developed globally, demand is expected to grow continuously. As a proctor, I will do my best to promote Bucheon Sejong Hospital and the level of medicine in Korea to the world."