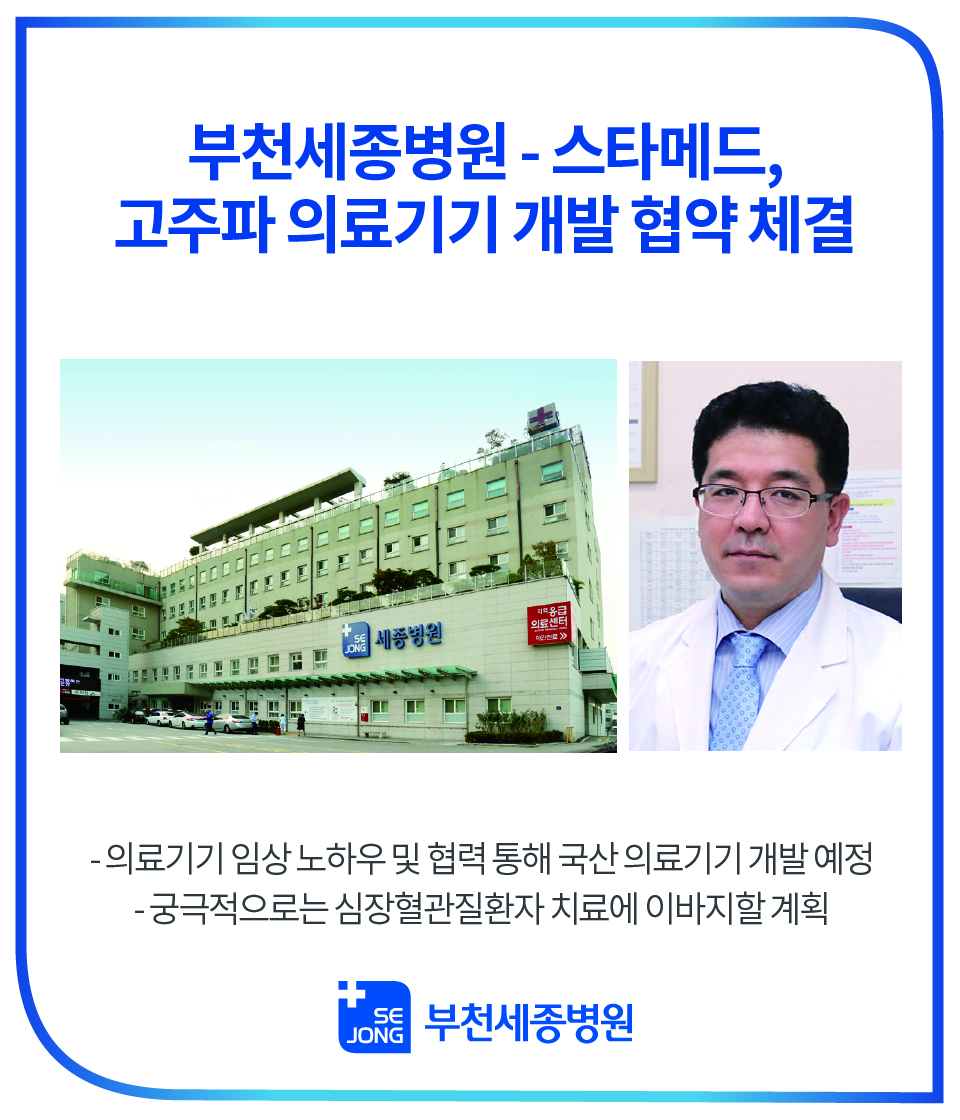 The only heart hospital in Korea designated by the Ministry of Health and Welfare, Bucheon Sejong Hospital (Chairman Park Jinsik) stepped forward to develop domestic medical devices for cardiovascular disease.
​
Deputy Chief of Cardiology Department Director Park Sang-won at Bucheon Sejong Hospital signed an agreement to develop cardiovascular high-frequency medical equipment with StarMed (CEO Shin Kyung-hoon), a domestic high-frequency medical device manufacturing company. The partners decided to proceed with clinical know-how and clinical cooperation for cardiovascular medical devices for developing the device using domestic manufacturing skills.
​
Deputy Chief Park Sang-won, who played a leading role in the agreement, remarked, "Currently, most cardiovascular medical devices are made by major foreign companies. They were inconvenient for domestic patients as the devices are adapted to the body of Westerners." He explained the reason for participating in product development is "the desire to lead the success of domestic products for cardiovascular medical devices and further contribute to the treatment of patients with cardiovascular disease in Korea."
​
Bucheon Sejong Hospital is the only cardiac hospital in Korea that receives around 300,000 heart disease patients a year. A total of 32 cardiologists (20 adults, 13 pediatric) are on duty 24 hours a day, 365 days a year, treating cardiovascular disease patients quickly.

​
The hospital is leading the development of cardiac medicine in Korea: ranking 1st grade in coronary artery bypass surgery for 13 consecutive years; becoming the first general hospital to acquire JCI certification, and; being selected as the 'top hospital' in Korea's Top 100 Hospitals and Specialty Hospitals category by the US Newsweek for three consecutive years.

​
StarMed, a domestic manufacturing company participating in the development agreement, is a medical device manufacturer researching products for high-frequency heat treatment for the past ten years since its establishment in 2009. The company released various products for treating solid cancers (liver cancer, kidney cancer, lung cancer, etc.) and benign tumors (thyroid, musculoskeletal tumors, etc.).