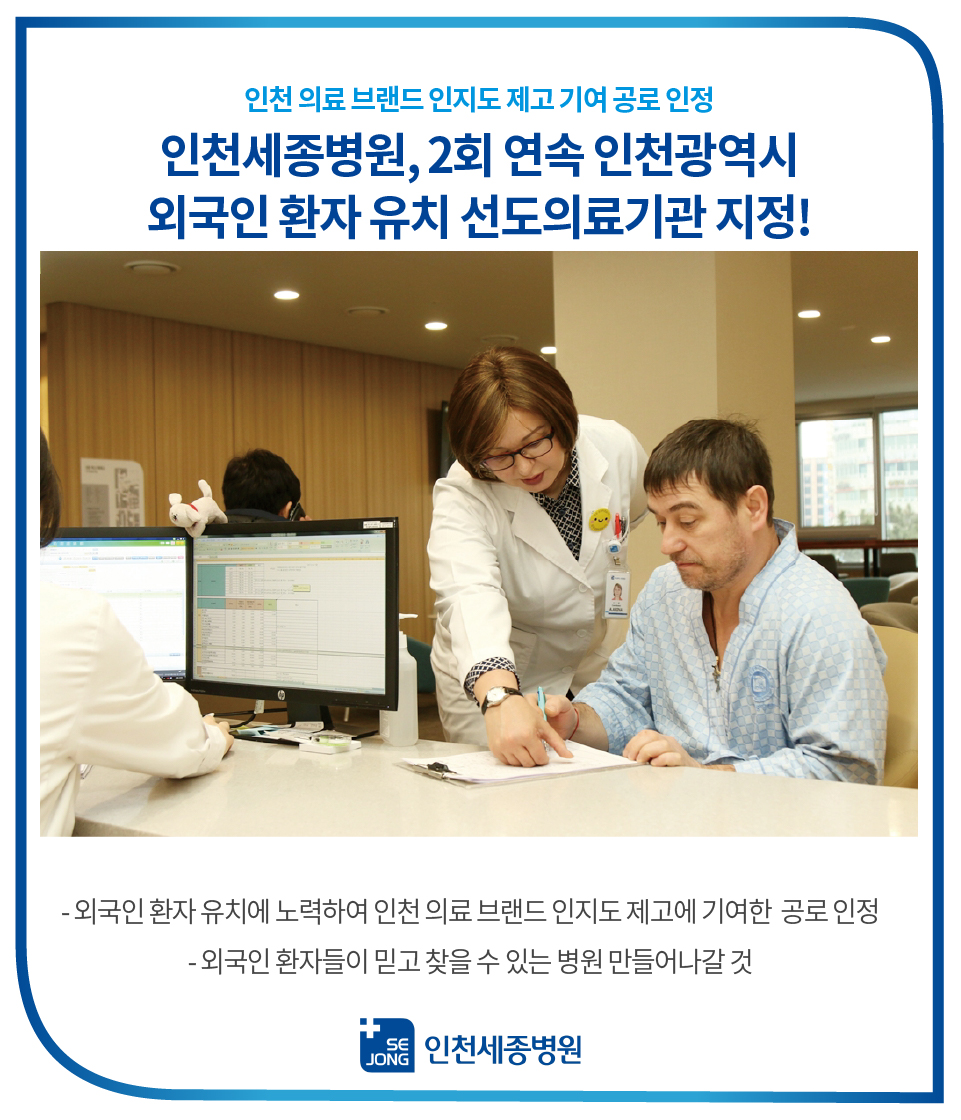 On the 20
th
(Thu.), Incheon Sejong Hospital (Director: Park Jin-sik), the first and only medical complex in Korea,
was selected as a leading medical institute to attract foreign patients in Incheon Metropolitan City as its contribution to improving awareness of the medical brand of Incheon in the world by proactively attracting international patients was recognized
.
It was
2 consecutive years
for Incheon Sejong Hospital to be designated since 2019.
The system to certify a medical institution that takes the lead in attracting foreign patients
was implemented for the first time in 2019 by Incheon Metropolitan City to make the excellent medical technologies of the region widely known in the world and to attract medical tourists from other countries
.
Incheon Sejong Hospital built a
multilingual website
to help foreign patients to gain information and get services more conveniently and, having
coordinators who have medical expertise and are mainly in charge of taking care of foreigners
, any international patient can get
one-on-one service
. On top of that, Incheon Sejong Hospital has actively carried out various activities to attract foreign patients:
overseas medical service promotion, marketing campaigns in foreign countries, overseas medical training programs, international medical programs, and attending business fairs and exhibitions home and abroad
.
For two years from 2021 to 2023, Incheon Sejong Hospital maintains its qualification as a
'leading medical center in attracting foreign patients designated by Incheon Metropolitan City.'
Kyeong-seo Park, the director of International Healthcare Center and chairman of Incheon International Medical Association, said, "
Incheon Sejong Hospital helps foreign patients with its one-stop service from the pre-departure care to medical treatment, examination, hospitalization, discharge, to follow-up management.
" He added, "with 40 years of know-how and expertise, Incheon Sejong Hospital has provided medical treatment even to Russian, Mongolian, and Kazakhstan patients, and
improved its brand awareness through continued medical volunteering activities
."
Byung-hee Oh, the director of Incheon Sejong Hospital, said, "we will do our utmost effort to become a hospital trusted by foreign patients by providing the best medical service based on a safe environment."