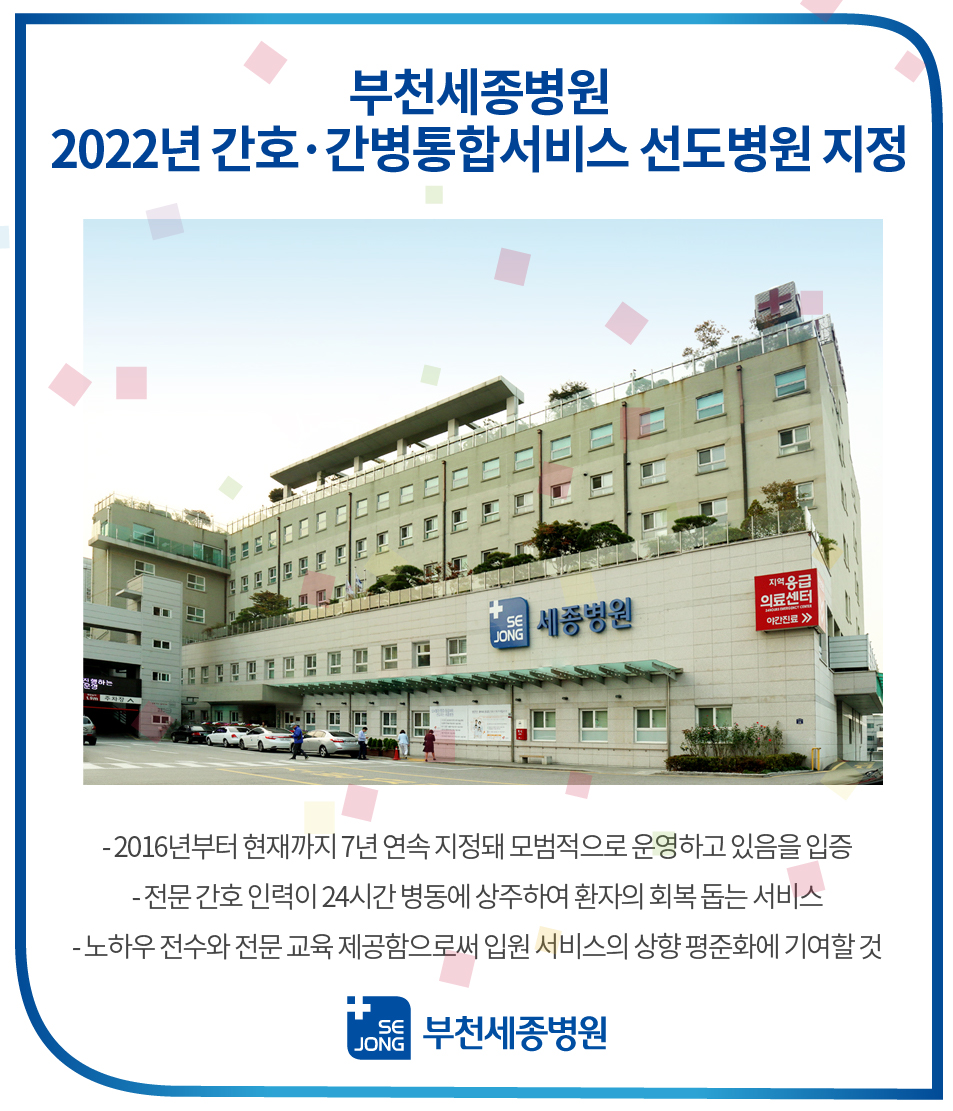 ▲The front view of Bucheon Sejong Hospital
On Apr. 1
, (Fri.), Bucheon Sejong Hospital (Director: Park Jin-sik), the only cardiac specialty hospital selected by the Ministry of Health and Welfare in Korea, was
designated as a
'leading hospital for the integrated nursing and care service' in 2022
by the National Health Insurance Service (NHIS).
​
Since 2016, the first year to designate hospitals for the service, Bucheon Sejong Hospital has been selected
for 7 years in a row
, which proves that
this hospital operates an exemplary integrated nursing and care service
once again.
​
This integrated service is to help the recovery of patients without guardians or caregivers, through professional nursing practitioners residing in the hospital 24/7. The aim of the 'leading hospital for the integrated nursing and care service' is to pass on the exemplary operation of the service and the know-how, pursuing the upward leveling in the hospitalization service among medical institutes providing this service.
Bucheon Sejong Hospital, as a leading hospital, has shared its operation experiences and know-how regarding personnel placement, ward environment, ward management, etc., with other medical institutes. In addition, it plans to provide a comprehensive consulting service, not mention to the opportunities for hospital visits and workshops and will
play its role to help this service to be stably settled
in other institutes.
​
In 2022
, the leading hospital will be operated
from April 1 to December 31
.
​
Park Jin-sik, the director of Bucheon Sejong Hospital, said, "based on our experiences that have been accumulated so far, we
will pass on various know-hows to new hospitals which prepare to introduce the service
," and he added, "we
will do every effort to
improve the quality of hospitalization service and
operate wards in a stable way.
"
​On the other hand, Bucheon Sejong Hospital began the integrated nursing and care service in July 2013 for the first time in order to create a safe and pleasant ward environment, and this service was applied to all wards in the hospital in July 2014. It led to high satisfaction of patients and guardians, and
the exemplary service operation was accredited as the hospital was awarded a commendation from the Minister of Health and Welfare.