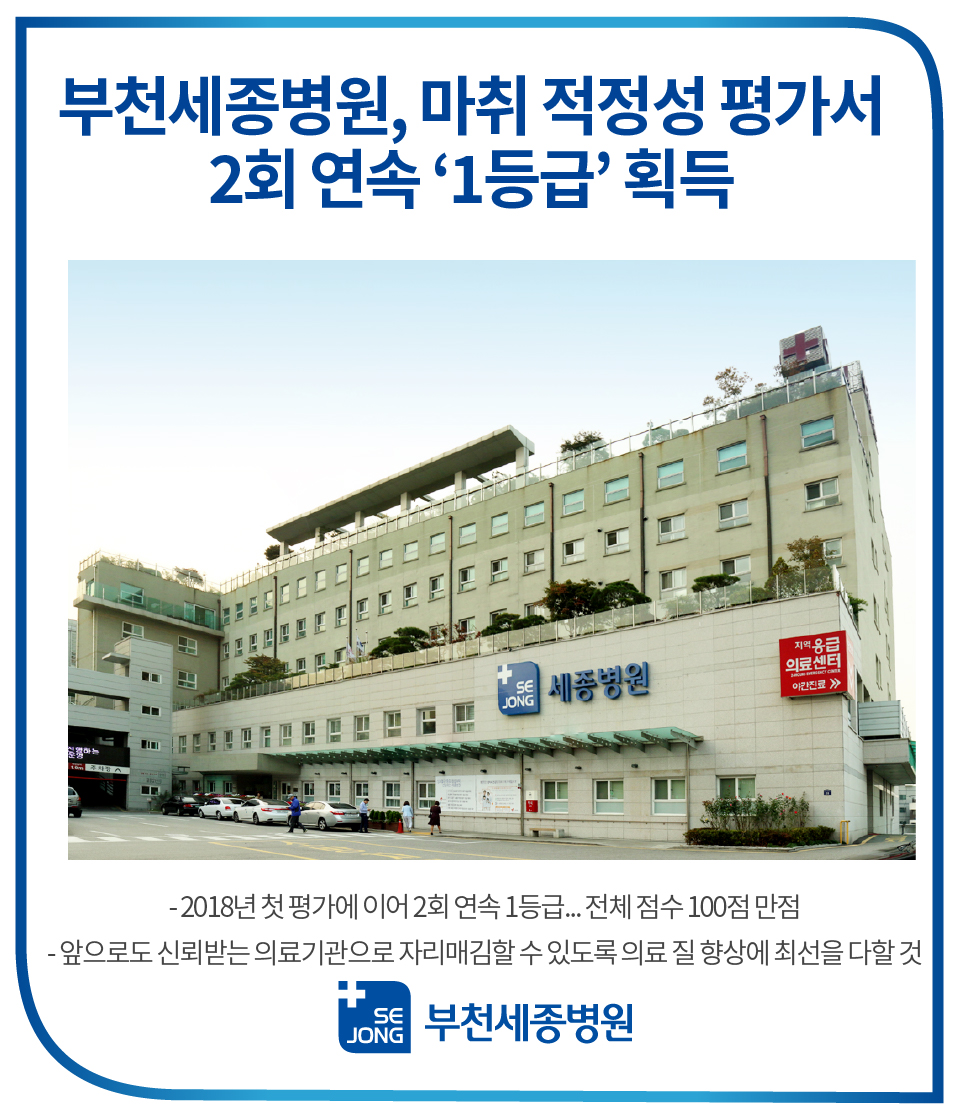 ▲The front view of Bucheon Sejong Hospital


Bucheon Sejong Hospital (Director: Park Jin-sik), the only cardiac specialty hospital selected by the Ministry of Health and Welfare in Korea, obtained Grade 1, the highest grade, in the "Anesthesia Adequacy Assessment" carried out by Health Insurance Review & Assessment Service (hereinafter, HIRA) on May 27 (Fri.) Among a total of 387 medical centers that underwent the evaluation, Bucheon Sejong Hospital attracted the attention as it received Grade 1 with a score of 100 points out of 100.

The Anesthesia Adequacy Assessment was first implemented in 2018 by HIRA in order to improve the quality of anesthesia and lay a foundation for the safe management of patients under anesthesia.

The targets of the second evaluation were expanded to specialized hospitals, and for 3 months, from January to March 2021, HIRA evaluated 387 medical institutes that administered anesthesia to patients in the following categories: ▲Infrastructure referring to facilities and staff required to guarantee the safety of anesthetized patients, ▲Procedure for safety management, and ▲Results that are the conditions during and after the anesthesia.

Bucheon Sejong Hospital received a total score of 100 points out of a total of 13 evaluation items, obtaining Grade 1 with a score that far surpassed the overall average score of 87.4 points of other institutes. The 13 evaluation items of the anesthesia adequacy assessment consist of 7 evaluation indexes and 6 monitoring indices, including ▲the monthly average hours anesthesiologists practicing anesthesia, ▲the operation of the recovery room, ▲the number of special equipment in possession for the dept. of Anesthesiology, ▲anesthetic drug-related management, ▲the rate of patient evaluation before practicing anesthesia, ▲the rate of measurement scores of nausea, vomiting, and pain in the recovery room, ▲the rate of patients maintaining a normal body temperature of 36.5℃ during and after practicing anesthesia, and ▲the ratio of operation bed to the nurse anesthetists.

Park Jin-sik, the director of Sejong Hospital, said, "As Bucheon Sejong Hospital receive the perfect score in the evaluation, it is proved again that Sejong Hospital has provided the best medical service on the basis of the safety of patients." "We will continue our effort to improve the quality of our service to be a hospital trusted by patients and local residents," he added.