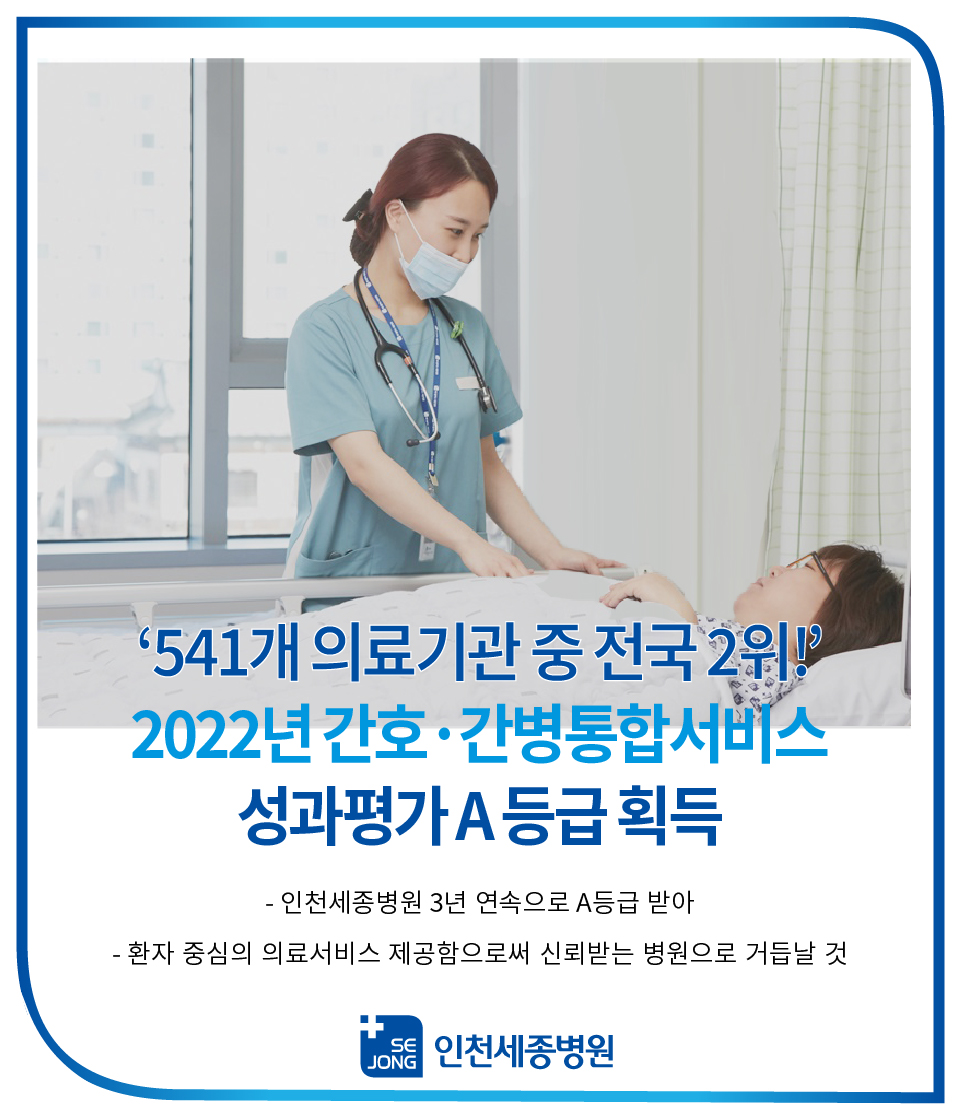 ▲ A nurse of Sejong Hospital caring for patients
Incheon Sejong Hospital (Director: Park Jin-sik)
obtained Grade A, the highest grade, in the "2022 Integrated Nursing and Care Service Performance Evaluation"
carried out by National Health Insurance Service (hereinafter, NHIS) on Nov. 29 (Tue.)
Incheon Sejong Hospital has received the highest level for 3 consecutive years, which is particularly impressive given that, according to the disclosed ranking, Incheon Sejong Hospital
ranked 2nd out of 541 medical institutions nationwide.
The integrated nursing and care service is designed to help the recovery of patients who do not have guardians or caregivers, through professional nursing practitioners residing in the hospital 24/7.
If an infectious disease, such as COVID-19, occurs, this service is also helpful in preventing infection in the hospital and ensuring the safety of patients and medical staff.
The performance evaluation, organized by NHIS, is a system that aims to encourage project participation and enhance the quality of service by improving the working conditions for nursing staff.
The evaluation was divided into three categories: publicness, structure, and process.
Based on the project operation performance in 2021, Incheon Sejong Hospital receive high scores in most evaluation items, including
△participation rate in the integrated nursing and care service, △improvement in working conditions for nursing staff, and △direct employment rate of full-time nurses and caring staff.
Park Jin-sik, the chairman of Sejong Hospital, said, "I'm glad that Sejong Hospital becomes one of the top 3 hospitals among other renowned medical institutions nationwide. Sejong Hospital has established every system with patient safety and infection prevention in mind, and it will strive to reduce the burdens of patients and their guardians while raising their satisfaction by providing patient-oriented medical service.
On the other hand, Incheon Sejong Hospital has
retained its title as a leading hospital for integrated nursing and care service title for 5 years in a row
since 2016 when the service was first introduced and it is doing its best to pass on know-how.