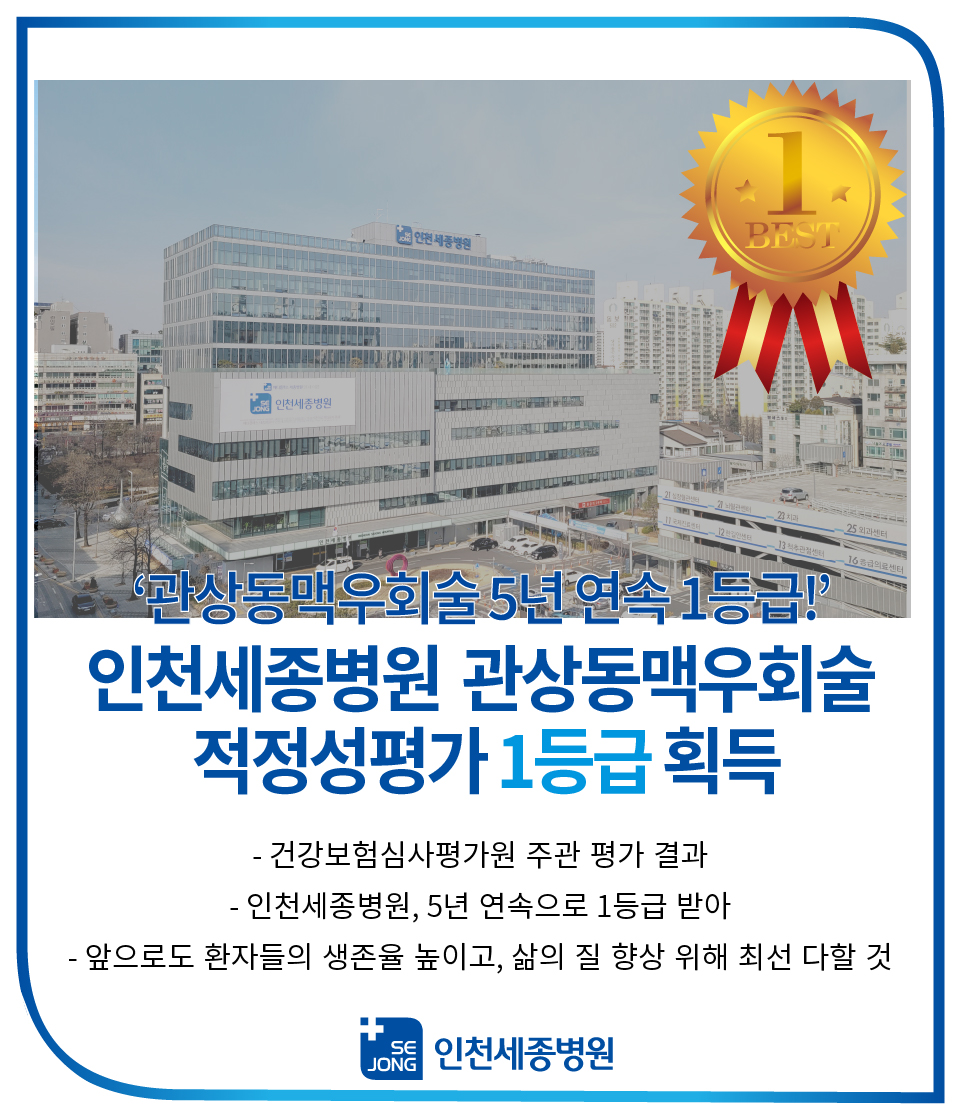 ▲ The front view of Incheon Sejong Hospital
Incheon Sejong Hospital (Director: Park Jin-sik) drew attention, as it
obtained Grade 1 in the "Coronary Artery Bypass Surgery Adequacy Assessment"
carried out by Health Insurance Review & Assessment Service (hereinafter, HIRA) on Nov. 29 (Tue.)
Incheon Sejong Hospital has received Grade 1 for the past 5 years in a row, proving that it truly provides the best cardiovascular treatment service.
When coronary arteries are narrowed or blocked, the typical treatment for ischemic heart diseases, including acute myocardial infarction and Angina pectoris, is to form an alternative vessel through surgery so that blood can flow to the other side.
The "Coronary Artery Bypass Surgery Adequacy Assessment" has been conducted by HIRA since 2008 in order to ensure safe and high-quality medical services for patients with ischemic heart diseases, and the assessment results are disclosed each time the assessment is carried out.
This assessment was conducted on 88 advanced general hospitals and general hospitals that performed coronary artery bypass surgery from October 2020 to September 2021. Incheon Sejong Hospital received Grade 1 on assessment items such as △ the total number of coronary artery bypass surgeries, △coronary artery bypass surgery using the internal thoracic artery, △ aspirin prescription rate at discharge, △ re-surgery rate due to bleeding or hematoma, △ mortality within 30 days after surgery, and △ re-hospitalization within 30 days after discharge.
Park Jin-sik, the chairman of Sejong Hospital, said, "as it receives good scores at every evaluation, Incheon Sejong Hospital proves that it is the best hospital for advanced cardiac disease treatment service. With its accumulated treatment experiences, Incheon Sejong Hospital will make every effort to raise the survival rates, and, ultimately, to improve the quality of life of patients, by providing quality medical service.