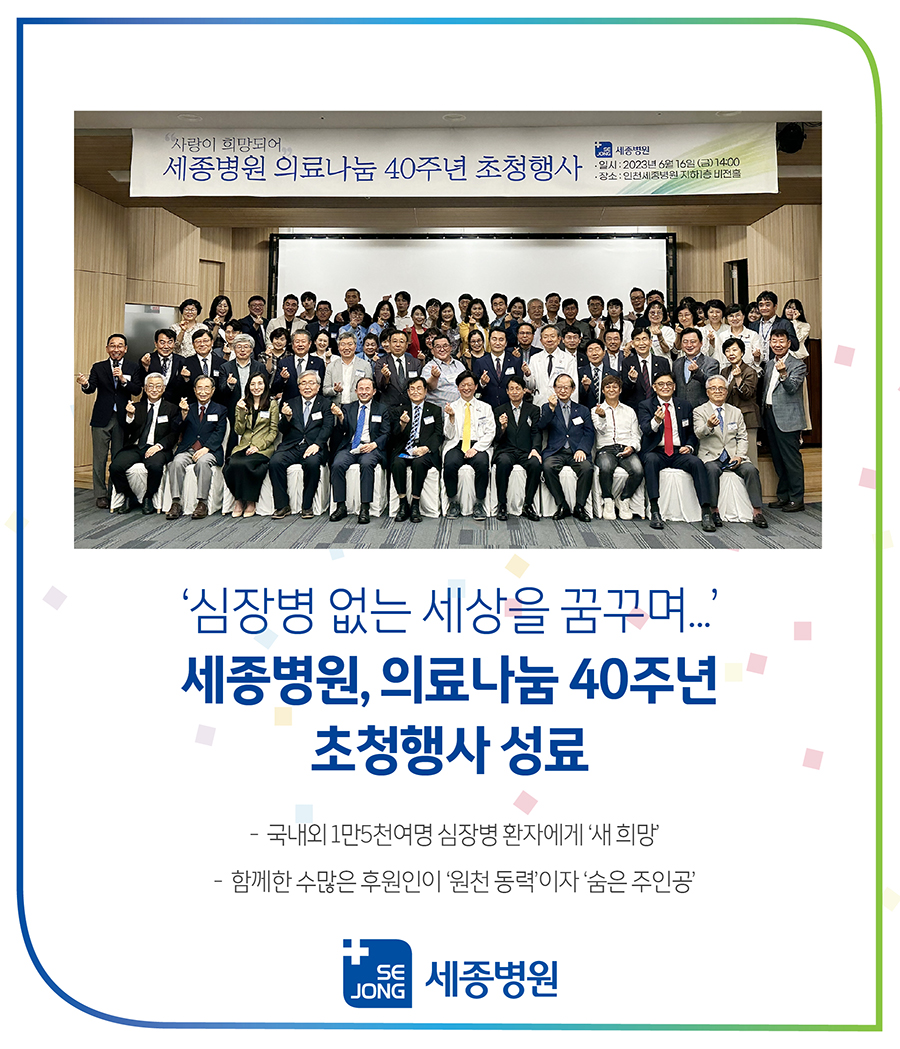 ▲Chairman Jin-sik Park of Sejong Hospital Group (6
th
from the right on the first row) with hospital employees and sponsors attending at '40
th
anniversary of Sejong Hospital's medical sharing initiatives: from love to hope' event at Vision Hall, Incheon Sejong Hospital on 16
th
.
---

Sejong Hospital Group,
under the leadership of Chairman Jin-sik Park,
has celebrated 40 years of its medical sharing initiatives
where around 15,000 patients with heart disease,
Korean and foreigners combined, have benefited.
Numerous sponsors were the unsung heroes
who have collectively supported the initiatives to persist.
Inviting 140 sponsors, it commemorates
the 40th anniversary of Sejong Hospital Medical Sharing: from Love to Hope
at Vision Hall, Incheon Sejong Hospital on the 16th,
according to Sejong Hospital Group on the 19th.

The celebration of the 40th anniversary of medical sharing
at Sejong Hospital Group, which started
one year after the opening of Bucheon Sejong Hospital in 1982,
is a tribute to the organizations and individual sponsors
for being part of the journey.
Medical sharing initiatives are aligned with the founding philosophy:
a world without heart disease.

To date, around 13,000 Korean and 1,600 foreign nationals have undergone surgeries and found hope at the hospital.
These medical sharing initiatives budded
not during the prosperous days but challenging days.
Dr. Myung-mook Lee, Director of Bucheon Sejong Hospital,
reflected on those times, saying,
"The level of cardiac-related medical care
in Korea was extremely poor a few decades ago.
More and more congenital heart disease patients
were unable to receive surgery."

This situation only stimulated
the medical professionals at Sejong Hospital,
proudly horning their skills as members of
the only cardiology hospital in Korea.
Organizations and individuals also joined the sponsorships
to make the medical sharing initiative possible.
Organization sponsors are
the Korean Heart Foundation; Yoido Full Gospel Church;
Save the Children; Milal Heart Foundation;
The Salvation Army Korea; Sarangdae Volunteer Group;
SJLovePlus; Korea Youth Council; Blue Volunteer Group;
Sung An Heart Foundation; 1% Welfare Foundation of Siheung City;
Korean Medical Support Foundation; Celltrion Welfare Foundation;
and many others.
Singer Sang-soo Ahn (chairman of SJLovePlus)and
artist Joon-seo Yuk (retired sergeant of Naval Special Warfare Flotilla)
who donated the prize money from the Iron Squad to Sejong Hospital
also participated in the event.

Chairman Ahn said, "Volunteering for medical sharing
for heart disease patients back in 1986 connects me with Sejong Hospital. Tireless efforts from every one of you here
have driven this noble and great journey."


Special guests,
including baritone Doing-il Jang (Sejong Hospital ambassador)
and comedian Yong Jang (advisor of Incheon Sejong Hospital)
played the roles of performance and MC, respectively.
The Heart Heart Orchestra,
a performance group for the developmentally disabled
operated by Sejong Hospital,
expressed their gratitude to the sponsors by playing beautiful music.

Bucheon Mayor Yong-il Cho and
Head of Gyeyang-gu District, Incheon, Hwan Yoon
showed their support for the hospital and its sponsors
via their congratulatory videos.
There are two ways to join the association of Sejong Hospital Sponsorship;
Love YES (medical sharing and community development fund)
and Hope YES (hospital development fund)
The members of the hospital and its sponsor
solidified their pledge to maintain the founding philosophy
and to collaborate
in pursuit of universal and equal medical services.
Chairman Park extended his gratitude, saying,
"Sejong Hospital's history is the medical sharing history,
marking the 40th anniversary of the hospital last year
and 40th year of medical sharing this year.
Hopes of patients and the growth of the hospital owe many sponsors.
Thank you again for your continuous sponsorship.
The hospital will strive to make a hopeful future.

Sejong Hospital holds a special photo exhibition
tracing back its history of 40 years of medical sharing initiatives
at the first basement level in Incheon Sejong Hospital.